18 November 2019
Can you save over £15,000?
If you've found yourself paying minimum payments on your credit cards the time to do something about it is now.
You can apply now online! Remember this offer is only for BAE Systems People!
What's happening?
We are living in a really difficult financial time. Prices rising across the board, energy and fuels prices beyond belief and household budgets stretched past the breaking point. We all need to look at how we can save money and reduce our monthly expenditure. Here's one way;
As people use credit for various reasons we have seen many of our members having larger balances with one or more different credit cards.
It can sneak up on us slowly, or it can hit us all at once due to some unexpected emergency where the credit cards seemed like the fastest available form of quick relief.
Either way, we see people who have run up multiple balances on different credit cards and it has started to put pressure on their budget.
As credit card balances rise, so do the monthly payments required to service them. Obviously, the more we can pay off the cards each month then the faster the balances will clear and the less we will pay in interest overall.
The problem comes with the minimum payment trap.
The Minimum Payment Trap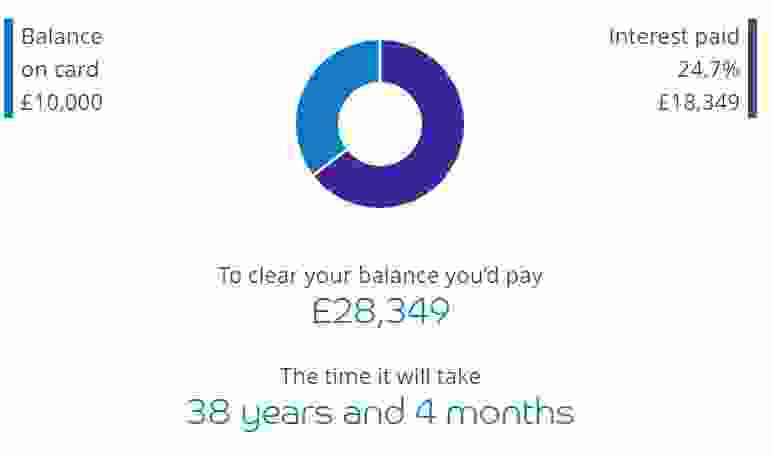 If you have built up a total of £10,000 of balance on one or more credit cards and are making minimum payments, it could take you over 38 years and cost you over £18,000 in interest alone to repay at minimum payments*. That's even if you never spend on them again and if you are with fairly mainstream credit cards.   With higher rate cards the cost could be much higher.
Borrowing £10,000 from this credit union would clear the credit cards, be fully repaid in a maximum of 5 years, and cost a maximum of just £2601 in interest**.
A saving of 32 years and over £15,000!
For BAE systems employees there's the additional benefit of payments coming right out of your salary before you get it so that you can more easily budget with your net income when it arrives in your bank.
Interest-Free Deals
Of course, not everyone is in this trap. Some people pay off their cards every month and never pay a penny in interest. The credit card companies must really dislike you! Others are borrowers who are lucky enough to be able to access interest-free cards. They monitor their financial situation and when one interest-free deal comes to an end they need to find another one, apply, be accepted, and move their balances again.
The problem with this type of borrowing is that it takes an effort to find the best deals and move the balances regularly. Balance transfers come at a fee which can be several hundred pounds for large balances. It can easily start to feel like you are spinning plates and at some point, those deals may just no longer be available to you, especially if rising balances and multiple credit applications start to impact your credit score.
person spinning plates
It may be better at some point to just bite the bullet, pay them all off with a fixed-rate loan from your credit union and make the future more certain for yourself.
Whatever you decide, your own not-for-profit credit union has been supporting BAE systems people since 1982 and we will be here to listen. And remember... once you've cleared the cards... cut them up!
Back to News